The power of Energy Efficiency & Monitoring
(RFE) Reg Farrell Engineering Ltd
Project Leader: Sean Behan Technical Sales
Our Client: A global plastics packaging company that has over one hundred types of different machines used for manufacturing (requiring three or four 3-phase 4W loads), approached RFE to monitor their overall energy usage and identified areas to improve efficiency using the following criteria:
Undertake pre-analysis and planning.
• Review the best available technologies and practices.
• Collect and analyse data to review the current and past performance.
• Use benchmarking as an effective strategy
• Reduce carbon emissions
A total of eighty machines and processes were identified for analysis.
Our Solution
RFE & Eastron Europe have recently designed a four channel multi-load meter that is capable of monitoring 4 x 3 phase, 4w loads and uses our EasyClick technology which is a proven solution for enabling the quick installation of power meters into switchboards as well as distribution boards. This solution provides an easy and reliable error free connection using Eastron's latest class 0.5 miniature split-core sensors for ease of connection.
In partnership with PAD Technology, Eastron have developed 'ConneX' which offers remote monitoring software, data logging and a web HMI platform for local display.
This platform offers plug and play simplicity with each meter identified by a unique serial number which are autodetected and added to your metering network as it grows. This system allows the facility to assign its own identification, description and physical location on an uploaded schematic individual to each meter, therefore problems are easily detected and localised within the facility. With this, individual meter reports and collective summaries can be downloaded from both the HMI and cloud service.
The data logger enables examination of individual meters via a web HMI and supports integration into the existing BMS through a range of interfaces, including MODBUS TCP. The powerful web HMI enables the rollout of both physical HMI touch screens as well as supporting HMI access on any networked device running the latest internet browser.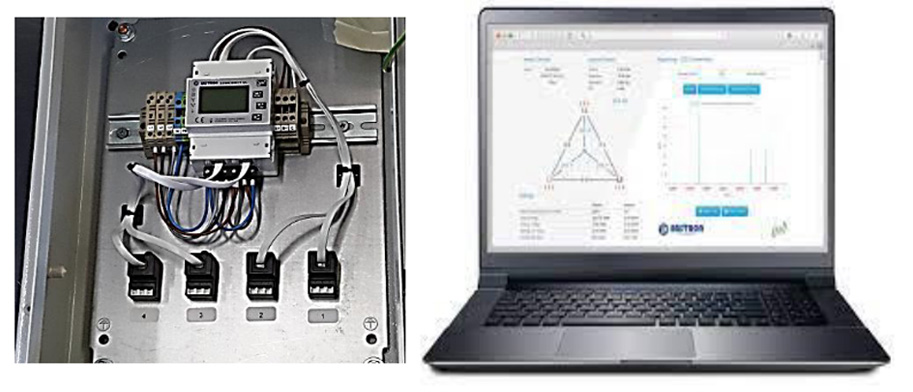 Full Energy Monitoring Solution Installed in a Manufacturing Facility Without Disruption.
The Result
The fulfilment of the customers criteria was met with a complete energy monitoring system design completed within a six-week time frame with minimum disruption to the workings of both the plant and personnel that
provided:
A complete energy monitoring and data logging network with HMI portal cloud-based capabilities.
Over eighty individual machines with process monitoring and analysis capabilities.
A reduction in the carbon emissions achieved through analysis of current and past performance in conjunction with benchmarking.
A system capable of being extended seamlessly as new monitoring locations emerge with benchmarking
A system capable of being extended seamlessly as new monitoring locations emerge.
Project Leader Statement – Sean Behan Technical Sales-(RFE)
We were delighted to take the lead on this project and work directly with our customer, the project was delivered on time and on budget, much to the satisfaction of our client. "says Sean Behan"
Due to one of many successful applications, we continue to grow our close partnership with Eastron Europe.
For further information on all our Eastron Europe products visit our website:
https://rfe.ie/product-brand/eastron-europe/
Or you can contact us by phone Tel: 01 4659010 Email: sales@rfe.ie